Mongero Monday Podcast
Coaching and Player Development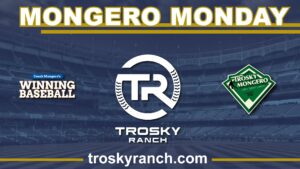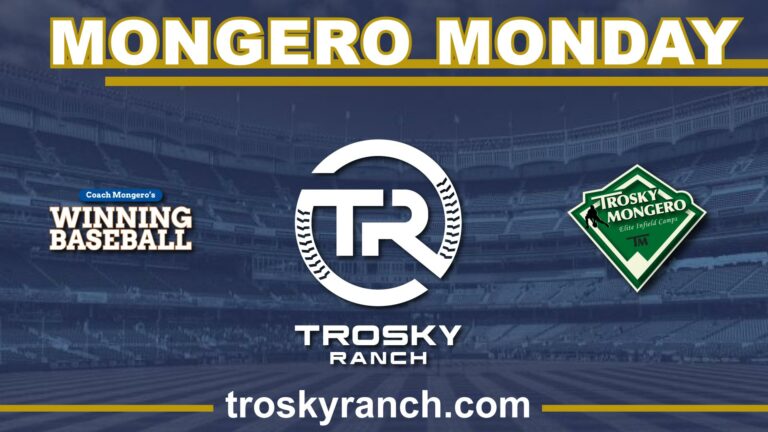 Mongero Monday is a weekly show with Host Trent Mongero. Trent's show often includes college, professional or high school coach and offers insight in all apsects of the game. This show is a great resources for players and coaches alike. We host these on Facebook live (https://www.facebook.com/winningbaseball/live/) to allow for questions throughout.
Mongero Monday #26 – Trent Mongero is joined by Lind Hartsell. Hartsell is currently the NJCAA D-II Baseball Committee, Chair after having spent many years as a coach and administrator.
Topic: Everything JUCO
Mongero Monday #25 – Trent Mongero is joined by Todd Coburn. Coach Todd is one of the most sought after catching coaches in the world who is known for not only his passion for the position, but also his passion for teaching the position.
Topic: Catching A-Z
Mongero Monday #24 – Trent Mongero is joined by Tim Hyers, Boston Red Sox Major League Hitting Coach and Mike Griffin, PRO5 Academy Director of Baseball Development and manager of the Czech Republic National Team. Trent, Tim and Mike dove deep into hitting philosophy, training, approach and more! Topic: Hitting A-Z
Mongero Monday #23 – Trent Mongero is joined by Adam Wainwright, pitcher with the St Louis Cardinals. Adam Wainwright has had a potential Hall of Fame type of career. He has done it on the mound with 167 wins and a career ERA of 3.38, two gold gloves, three time All-Star, Silver Slugger and a World Series Ring. More importantly, Wainwright has built an even greater reputation off the field for his faith and family of 7, including an adopted son. His family has offered great generosity and has consistently given back to their community. Wainwright received the 2020 Roberto Clemente Award which is the highest honor presented by Major Leauge Baseball.
Mongero Monday #22 – Trent Mongero is joined by his former coach and highly respected mentor of many, Mark Scalf, founder of Coaching Your Kid, former head coach at UNC Wilmington.  Mark was a 5 time CAA Coach of the Year, Team USA Coach and had 941 Division 1 wins. Mark's teams also participated in 9 NCAA regionals and they averaged 3-5 draft picks per year including 2017 1st round pick, Greg Jones.
Mongero Monday #21 – Trent Mongero is joined by Darren Fenster, founder of Coaching Your Kid, former minor baseball player with the KC Royals and current Minor League Baserunning and Outfield Coordinator with the Boston Red Sox.  Trent and Darren discuss coaching your kids, but in a bigger picture, to spread their passion for and knowledge of the game to the next generations of players, coaches, and fans.
Mongero Monday #20 with guest, Shane Monahan, a former Professional Baseball Player for Seattle. Shane was an outfielder in the Seattle Mariners organization and had the opportunity to play in the big leagues for parts of two seasons including with Ken Griffey Jr. Trent and Shane discussed this experience along with the importance of the mental game and the landscape of travel baseball. The "good, the bad and the ugly"!!!
Mongero Monday #19 with guest, Brian Kowitz, a Former Professional Baseball Player for Atlanta. Brian had the opportunity to come up with some of the best in the organization and was able to observe the separators in those athletes.
Mongero Monday #18 with guest, Jeff Schaefer, a former professional baseball infielder, and current Regional Director os USA Baseball in addition to founder of  the Carolina Baseball Center (CBC). Trent and Jeff discuss the pro's and con's, the good, the bad, the ugly, and the good of showcase and travel baseball.  
Mongero Monday #17 with guest, David Smart, current high school head baseball coach at Denmark High School in Alpharetta, Georgia. Coach Smart is in his 28th season as a high school coach, was the 2018 Ga Dugout Club Ethics in Coaching recipient, 2019 Ga Dugout Club 4A Coach of the Year, 2019 Atlanta Braves 400 Club Coach of the Year and has coached in 10 State Finals Series, winning three.
Mongero Monday #16 with guest, Dr. Tom Hanson, Co-Author of Heads-Up Baseball, Heads-Up Baseball 2.0 and author of Play Big Baseball. Dr. Tom Hanson has coached baseball players from Little League to Big League World Champions, and executives from small business to Fortune 500 companies. His cutting edge approach to performance has made him the "go-to guy" for athletes and others chasing big dreams. His client list includes the New York Yankees, Texas Rangers, Microsoft, and Verizon.
Mongero Monday #15 with guest, Jack Leggett, Legenday Former Clemson Head Coach. Leggett is currently the head coach of the Team USA 18U National Team. He also consults with and mentors many of the top baseball players, coaches, and programs in the country. He served as the head coach of the Clemson Tigers from 1994-2015, with 21 NCAA appearances, 9 Super Regionals, and 6 trips to the College World Series. During his storied career with the Tigers, Coach Leggett had a 955-480 record.
Mongero Monday #14 with guest Scott Emerson Part 2. The "things that matter" when developing pitchers.
Mongero Monday #13 MLB Pitching Coach, Scott Emerson "Emo." Discussing pitcher development, arm care and the keys to advancing to the highest levels as a pitcher.