Trosky Ranch – 6th Tool Nation
The T

rosky Ranch is here to serve you with all of you infield and overall coaching needs! Nate Trosky is known world wide as one of the best infield coaches. He has a gift for amazing instruction, but also his unique approach to the mental game is unmatched. At Trosky Ranch, we call the Mental Game, the 6th Tool. Nate Trosky has spent years in the Dominican Republic observing their habits. It is from this experience that he was inspired to change his methods of training. Nate has spent the past 10 years training his nephew, Jabin Trosky, who is one of the premier shortstops in his class. Spending four hours a day nearly everyday has enabled Nate's creativity to come out. Nate is one of the best speakers you will find, and is able to captivate his audience!
In addition to infield play, the 5 Tools scouts look for in players is equally important. These tools are essential to train in order to reach higher levels, whereas the 6th Tool is the difference between reaching ones full potential, or ending up in the "graveyard" of players who were never able to reach that ceiling.
Trosky Ranch also brings a combination of High School Coaches who have years of experience with coaching at a high level. Highlighted by Trent Mongero.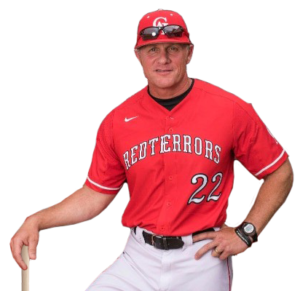 Trent and Nate have teamed up to form the Trosky/Mongero Elite Infield Camps which have nationwide presence. These camps are typically two day camps that expand deeply on the development of infield play. These have proven to be a huge success for players who have attended.Trent Mongero was named the ABCA coach of the year for 2017. He brings with him the experience of a high school coach and also the perspective of a dad of a player who played for him. This brings great value to all of our parent coaches who face this struggle. Trent's son, Taber, is currently a sophomore at the University of North Carolina Wilmington
Tony Hilde coached 10 seasons overall at Eagle High School. Tony grew up in Pendleton, Oregon. Tony was a three sport athlete where in his senior year he was the Oregon Player of the Year in football. He was 1st team All-State Quarterback, 1st team All-State Free Safety and 1st team All-State as an Outfielder in baseball. Tony represented the Marin

ers in the 1994 Area Code Games. Tony was drafted by the San Francisco Giants in 1994. Tony played football for the Boise State Broncos from 1993-1996, playing in the Division 1AA Championship in 1995. Tony was the first QB to play at BSU while they stepped up to Division I football. Tony began coaching in 1999 as a head football coach in a small school in
Oregon. He then moved back to his home town of Pendleton where he became the Head Football coach and assistant baseball coach in 2005. In his three years as head football coach he was the Intermountain Conference coach of the year all three years. In 2006 he was the Oregon Nike Coach of the year. He began coaching football and baseball at Eagle in 2011.
As a baseball coach at Eagle High School in Hilde's tenure, the Mustangs played in 1 state championship, 5 Semi Finals, 4 district titles and made state playoffs in all but 1 season. Under Hilde, the Mustangs won 2 Academic State Titles.
Full Bios: