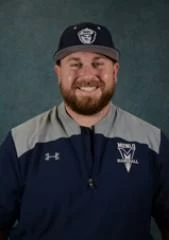 White brings a wealth of experience on the diamond as both a player and a coach.
After finishing his playing career, in 2013, White decided to pursue coaching at Monterey Peninsula Community College where he was a hitting, catching and strength coach for 3 seasons. In 2016 he became the graduate assistant for San Jose State University, where he worked with players from every position with an emphasis on catching. 
In 2017, Nick White was hired as the Head Assistant Coach/ Recruiting Coordinator for Menlo College (NAIA). Although hitting and catching are his specialty, he was the head pitching coach for the 2017 season. White is also the founder and Head Coach for Menlo's JV baseball program. In his nine years of collegiate coaching he has been a head hitting, catching and pitching coach as well as 3B / 1B coach and head recruiting coordinator. 
He spent 2012-2013 at Oklahoma Wesleyan University and earned All-Region honors on a team that finished in second in the NCCAA World Series.
Prior to that he spent time at Sonoma State and the College of San Mateo, where he earned first team All-NorCal and second team All-Conference.
White graduated from Oklahoma Wesleyan in 2013 with a Bachelor of Science in Kinesiology and he has since earned a Master of Art in Principles of Coaching and Athletic Administration(2017) and a Master of Science in Exercise Science(2020) from Concordia University Irvine. White is also Rapsodo certified.